Mark Hewett, director at Scoop, discusses the future of Stirling's steadfast shopping centre
At the outset of our conversation, Mark Hewett, director at Scoop Asset Management, which recently acquired the Thistles Shopping Centre in Stirling, addresses the elephant in the room: "You're probably asking why we would buy a shopping centre in the midst of the biggest downturn ever."
This certainly was a pressing question given many of the centre's key tenants seemed to evaporate overnight, as not only had its anchor retailer Debenhams and popular Arcadia brands Topshop and Dorothy Perkins exited the high street, but Zara and H&M had also made the strategic decision to depart the struggling destination.
Despite appearances to the contrary, however, the acquisition by Scoop was a considered investment into one of Scotland's most historic cities. "We went into the purchase with our eyes wide open," Hewett assures me. "We recognised that mid to long term this is going to have functionality as a retail centre."
The starting position for anyone buying a shopping centre at the moment, he explains, is the assumption that any city or town is oversupplied with retail floor space: "Anybody who says otherwise is delusional."
He says that Scoop was under no delusion that Debenhams would be going under at the time of purchase, and that the writing was on the wall for the Arcadia Group. Integral to taking on the centre, then, was the asset management firm's ability to back its investment with financial fire power to turn the centre around.
"Stirling has a very firm policy which it has rigidly upheld over the years focusing on town centre first, and against generally anything they consider to be 'diluting' the town centre," Hewett explains. "Comparatively speaking there is little direct out of town competition to the town centre and its very important to know what we have to contend with." [The centre's nearest competitors are Affinity Sterling Mill Outlet and Falkirk's Howgate centre.]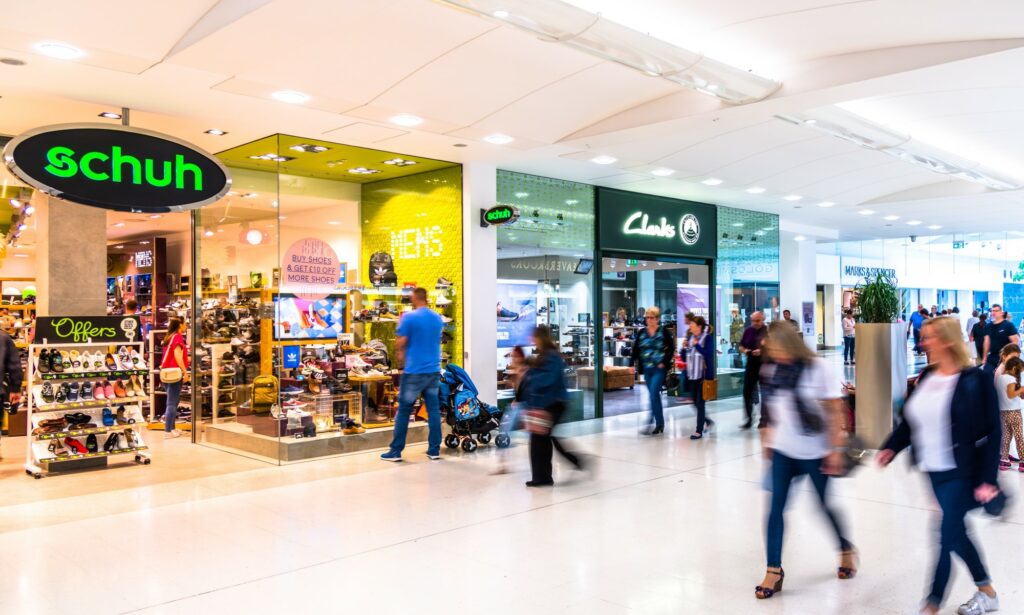 Stabilise
The first step following acquisition, says Hewett, was to make sure the centre was not going to lose any more retailers: "Short term we were looking to stabilise the retailers that we have left – many of whom have had a pretty torrid 18-month period and have probably still got another six months of pain to come before things start to go back to some sort of normality. We needed to stabilise the existing tenants, and we've done that through reaching various agreements on a case by case basis."
The next point of focus was to maximise occupancy within the centre, meaning securing short term lettings of vacant units. Hewett says it was important to ensure there was a balance between occupancy and fairness within the tenant mix: "We made sure that we were not putting operators into units on a temporary basis who will then undercut or prejudice our longer term tenants."
There were a not-insignificant number of units to fill, including the large H&M unit which, he tells me, is actually not owned by the centre, despite its sole frontage existing within the mall. The private investors which own the unit were unable to reach an agreement with the high street fashion giant, causing it to shut up shop. "It's quite frustrating, but here we are," says Hewett.
Zara, Thorntons, Dorothy Perkins, Burton, Topshop, and Topman also shut their doors. However, he says that a number of brands are in talks to take on the units, and some short and mid-term deals have been signed, including fashion retailers Leading Labels and Blue Inc, and children's experiential offer, The Littlest Pet Shop.
The very short term problem on the Debenhams unit, he tells me, is that it has a lot of frontage, and so Scoop has spent 'a fair amount of money' dressing the empty window with hoardings displaying what a large Flower of Scotland wall.
Strategise
Hewett says that right now is a once in a generation opportunity to alter what the centre looks like for the next twenty years. He tells me he has spent a lot of time in Microsoft Teams calls with all the key stakeholders, and has held meetings with local MP Alan Smith, with the city's Business Improvement District, the university and college, with Stirling castle, and the local gallery: "You name it, in the past six months I've met with them to get their view on where the city is heading and how the Thistles can plug into that."
In the next few months, he says they are hoping to have it narrowed down to one of two options rather than a table full of options, which will be 'very different' to the kinds of things that would have been considered four or five years ago.
He says there is a short term and a longer term option on the Debenhams unit, either to relet the space when it is handed back by the administrators, or potentially splitting up and repurposing the unit, remodelling the space to bring in new uses, such as leisure, community, residential, medical, and hotel – Scoop is keeping everything is on the table.
Hewett tells me that there is 'a lot' of occupational interest still out there on the retailer side for the city, but that the challenge at the moment is being able to engage on sensible commercial terms, and thinks that it's going to be at least another six months before those conversations begin to convert into new deals.
"The impression I don't want to give is that the Debenhams space in Stirling will never be retail again," Hewett adds. "The key thing to remember is, there's a tendency for asset managers and owners on retail being dead, and the only future for centres is housing or whatever. That needs to be tempered a little bit – good retail will still have a position going forward. In our opinion, the Thistles in Stirling is, at heart, a retail centre, and will always be a retail centre."
This was first published in Retail Destination Fortnightly. Click here to subscribe.